Our story
Kapow Primary was created from a genuine need for affordable and accessible support for teachers in the foundation, non-core subjects. We understand that schools often struggle to provide a well-rounded education for their pupils, especially since the changes to the 2014 National curriculum and the increased emphasis on Maths and English.
With the introduction of new subjects like Computing and mandatory language teaching at Key Stage 2, many teachers lack confidence in teaching these subjects without additional support and training. At Kapow Primary, we want to help schools and teachers offer a broad and balanced curriculum that stretches and inspires children and supports the development of their knowledge and skills.
Our goal is to provide engaging, clear, and relevant lessons and resources that are regularly improved and reviewed. That is why we built an online subscription source of carefully structured and enjoyable lesson plans and supporting resources, including CPD videos, that is affordable, easy to use, and accessible to all schools. We are proud to have been adopted by over 5,600 primary schools, and we continue to grow rapidly thanks to word-of-mouth recommendations within the teaching profession.
At Kapow Primary, we are committed to helping teachers inspire a love of learning in children and expose pupils to a wide range of subjects. We believe that budgets and time constraints should not hinder these aspirations. That is why we offer a range of twelve foundation subjects, including our recently launched subjects Science, Spanish, and Religion and Worldviews. Watch the video to learn how Kapow Primary can help your school deliver a comprehensive and engaging curriculum.
We listened to teachers and schools and then designed Kapow Primary to provide...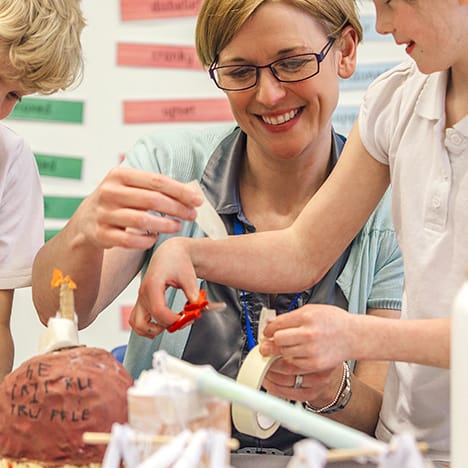 What about the cost?
We're mindful of the time and financial pressures on you, so we:
Minimise the costs of equipment and materials required to teach our lessons. Just search for the required resources to see clear materials and equipment lists.
Offer no-obligation free trials. You can explore Kapow Primary in your own time without any pressure to purchase.
No sales team, so no sales calls.  We have transparent pricing depending on the size of your school and how many subjects you take. If you are a MAT there is a separate table showing the prices if more than one of your schools subscribes to Kapow Primary.
Offer a choice of subjects: select the ones you want and build your subscription.
The more subjects you buy, the less the cost per-subject. You can upgrade at any point in your subscription year and still benefit from the multi-subject discount.
We do not automatically renew subscriptions, so you remain in control.
The best way to find out more is to take out a free trial. See what Kapow Primary can do for your school today.
Helping you teach with confidence