Our story
Kapow Primary was born because of the lack of affordable, accessible support for teachers across the more practical, non-core subjects.
Many schools felt they were not offering a well-rounded educational experience for their pupils following the 2014 National Curriculum changes and the stronger focus on maths and English.
The brand new subject of computing was added to the curriculum as well as the mandatory requirement to teach a language at KS2. Not all teachers felt confident to teach these subjects without additional support and training.
Many of us went into teaching to inspire a love of learning in children and to expose them to a wide range of subjects, knowledge and skills. However, budgets and time constraints can make it difficult to realise these aspirations.
We built Kapow Primary to help schools and teachers offer a broad and balanced curriculum that stretches and inspires children.  We wanted to ensure it remains fresh, updated, relevant and affordable so built it as an online subscription platform to provide content and resources that are constantly being improved and refreshed.
We have grown quickly, with news spreading about us through word of mouth in the teaching profession and are proud to have been adopted by over 2,400 primary schools.  In 2020, we added RSE and PSHE to the list of foundation subjects we offer and will expand the range of foundation subjects further in 2022 and beyond.
 Play the video on the right to find out more.
We listened to teachers and schools and then designed Kapow Primary to provide...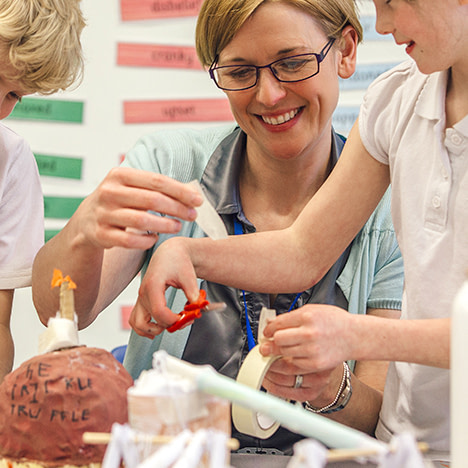 What about the cost?
We're mindful of the time and financial pressures on you, so we:
Minimise the costs of equipment and materials required to teach our lessons.  Just search required resources and you can see the list of extras required.
Do not expect you to take out a subscription to all our subjects, just choose the ones that interest you.
Offer free trials, without further obligation, so you can look at Kapow Primary in your own time, without pressure from sales calls – although we do love to hear from you!
Don't employ a sales team.  We have transparent pricing: you can see the cost clearly on the website by clicking the pricing button and there is a link to our pricing for MATs and clusters of schools.
The more subjects you buy, the less the per-subject cost and you can upgrade at any point in your subscription year and still benefit from the multi-subject discount.
We do not renew your subscriptions automatically so you remain in control.
The best way to find out more is to take out a no-obligation free trial for seven days here.  Your access lapses at the end of the trial; there is no automatic sign-up.
Helping you teach with confidence