How does Kapow Primary approach knowledge and vocabulary?
This blog post is written by Art specialist Lucy Roff.
The current drive in UK schools to plan and deliver a 'knowledge-rich curriculum' has led to questions over the importance of knowledge versus skills. Knowledge and skill are inherently linked and according to Amanda Spielman at Ofsted, both are 'essential ingredients of successful curriculum design'. Educational research suggests that another key ingredient that influences curriculum success is the vocabulary we teach both explicitly and through daily classroom talk and the written word. 
What is a 'knowledge-rich' curriculum?
The term 'knowledge-rich' was introduced by Eric Donald Hirsch, an American educational theorist, and was originally intended to explain the way in which schools could create a knowledge base to enable students in a class to build their learning from the same starting point. Hirsch called this 'communal knowledge'. In real terms, this could mean planning for all learners, being aware of gaps in learning and taking action to fill them, as well as making the most of an individual school's existing cultural capital.
A 'knowledge-rich' curriculum has of late become synonymous with the idea that schools must make choices about what to prioritise in the curriculum, and have clear reasons for these choices. In many schools, and here at Kapow Primary, the creation of 'knowledge organisers' have made these knowledge choices explicit. This helps teachers feel confident of the key concepts a unit will deliver and enables professional decisions about how planning can be adapted where necessary. 
Knowledge organisers are visual summaries of the key facts and vocabulary for each unit within a subject. Because our knowledge organisers are written to be child-friendly, they can be used as a tool during the process of spaced learning and retrieval practice. They can be used:
to review prior knowledge before starting a new unit 

to reinforce new learning as the unit progresses

as a resource for retrieving information to apply it in new contexts (for example, as a reference for unfamiliar words)

 to revise knowledge from previous lessons in a unit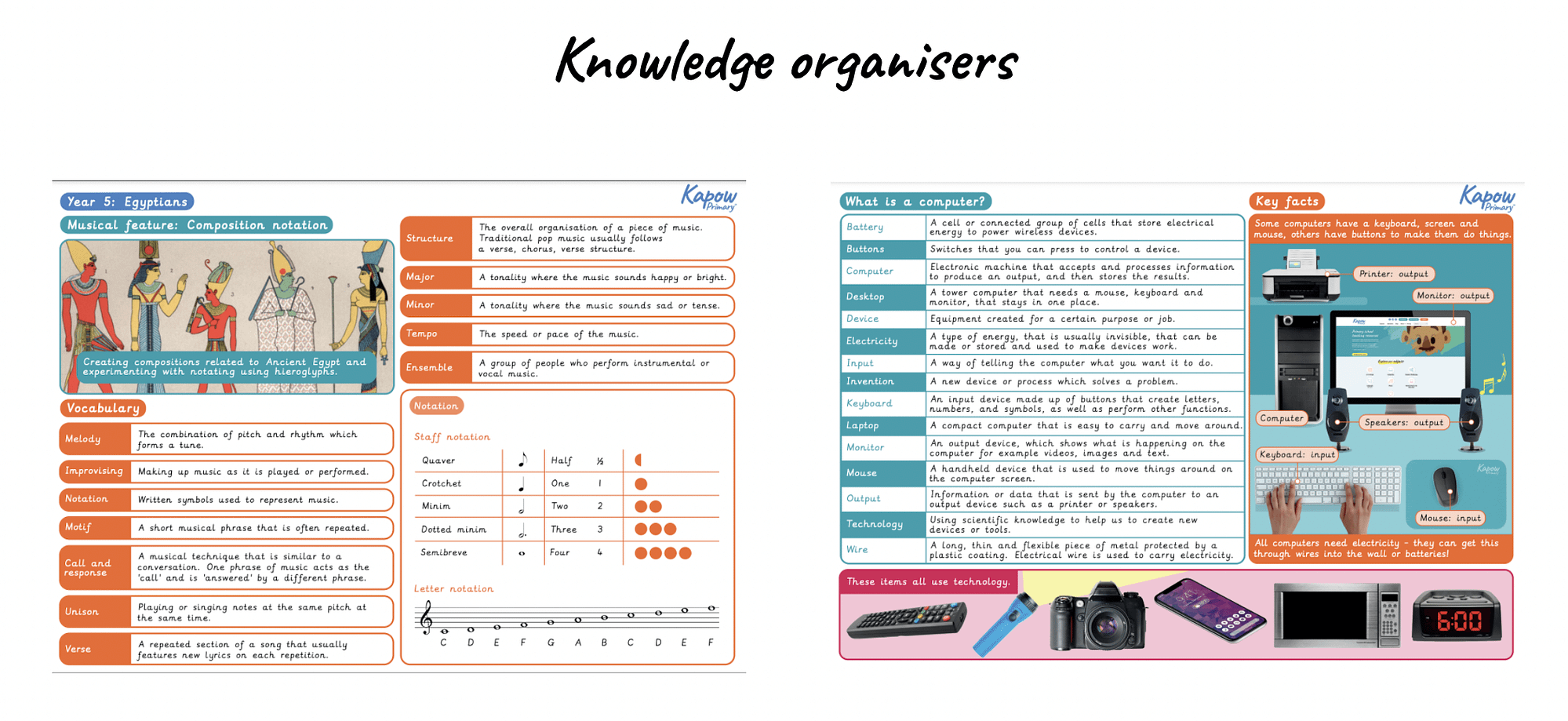 Access a sample knowledge organiser for RSE & PSHE
Are the Kapow Primary schemes knowledge-rich?
In his July 2021 speech on raising school standards, Nick Gibbs stated that a key component of a successful school would be to 'Give every child the knowledge they are entitled to as part of their cultural inheritance.'  At Kapow Primary, our units of work cover all National curriculum content with a broad and well-balanced approach. The core knowledge has been carefully chosen to ensure a varied and thorough coverage of the end of key stage requirements. Lessons are planned by specialists with strong subject knowledge; not only that but our teacher videos and supporting essential materials provide valuable CPD to build on teachers' existing subject knowledge. 
The term 'knowledge-rich' could be seen as not referring to certain knowledge being superior, but instead, that knowledge has been structured in such a way that it is coherent, accessible and progressive. The term also reflects the importance of knowledge being retained, aiming for deep conceptual 'schemas' to fix new knowledge into.  Evidence of this sequential learning and progression can be found in the curriculum overview and planning documents.
So, if the organisation of knowledge and clear sequencing is key to ensure progression, how does Kapow Primary deliver this? Our schemes of work are designed to be flexible in their delivery to best match individual schools' needs. Within a year group, units can be taught in any order and our progression of skills documents provide reassurance that content coverage is in place. Kapow Primary units apply a 'spiral' model to knowledge, where pupils gradually learn more and at greater levels of complexity. It is important to note that within a unit, lessons should be taught in the order they appear to ensure this spiral approach. Concepts that are introduced at the start will be revisited and reinforced throughout, building a secure knowledge base as the unit develops.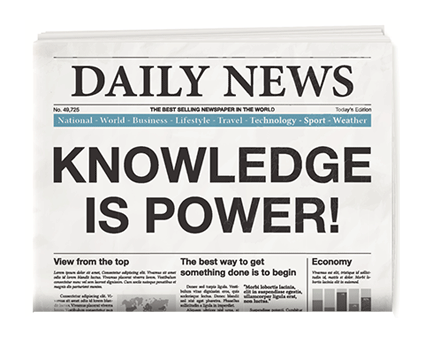 How does explicit teaching of subject vocabulary support knowledge retention and retrieval?
E. D. Hirsch championed the idea of turning a classroom into a 'speech community' so that children have the language for learning as well as the specific vocabulary of the knowledge being taught. Essentially, using consistent language in the classroom to help children to become aware of their own processes and strategies for learning – now known of course as Metacognition: how we think and how we use our knowledge.
The power of language for learning is demonstrated in a study by Sheffield Hallam University for the Education Endowment Foundation. It found that improving the quality of classroom talk had a big impact on learning success. Teachers were trained to use strategies that enabled pupils to reason, discuss, argue and explain rather than merely respond when talking in the classroom. Results showed that the children studied made on average two months extra progress compared to classes not using those techniques.
So, how we train children to think and talk about their learning is key to progress in school. A vital component of this talk is the subject-specific vocabulary we share with children as part of every new unit that we teach. The study of the impact of vocabulary acquisition on learning is not a new thing, and educational research suggests a strong relationship between vocabulary and comprehension. Building a broad vocabulary, but also having a deep understanding of those words, leads not only to the ability to grasp new knowledge but also to use and apply that knowledge in discussion and the written word.
How can Kapow Primary support you in the planning and teaching of subject-specific vocabulary?
Not all vocabulary development comes from direct teaching, of course; children absorb new words from conversations they are part of, from seeing words in the world around them and from books they read and are read. There are many ways to encourage the growth of children's vocabulary in the school environment. Ideas include collecting words from books read, displaying interesting or puzzling words encountered as part of a working wall or exploring 'specialist' vocabulary linked to a subject that a child is an expert in. The word-level work that links to the English curriculum helps to embed words so they can be used effectively; generating definitions, investigating morphology and even creating word maps that link topic vocabulary together.
But which words to choose? A general consensus is that the teaching of new vocabulary should aim to introduce words that will enable the understanding of new concepts by building on existing vocabulary.  At Kapow Primary, the key vocabulary introduced or reinforced within each lesson is displayed at the bottom of each lesson page. Many lessons include pop-up glossary entries to make the explanation of new words easier. The knowledge organisers for each unit give a clear, child-friendly definition of key subject vocabulary, and can be used to reinforce new words or act as a prompt for use in discussion or writing.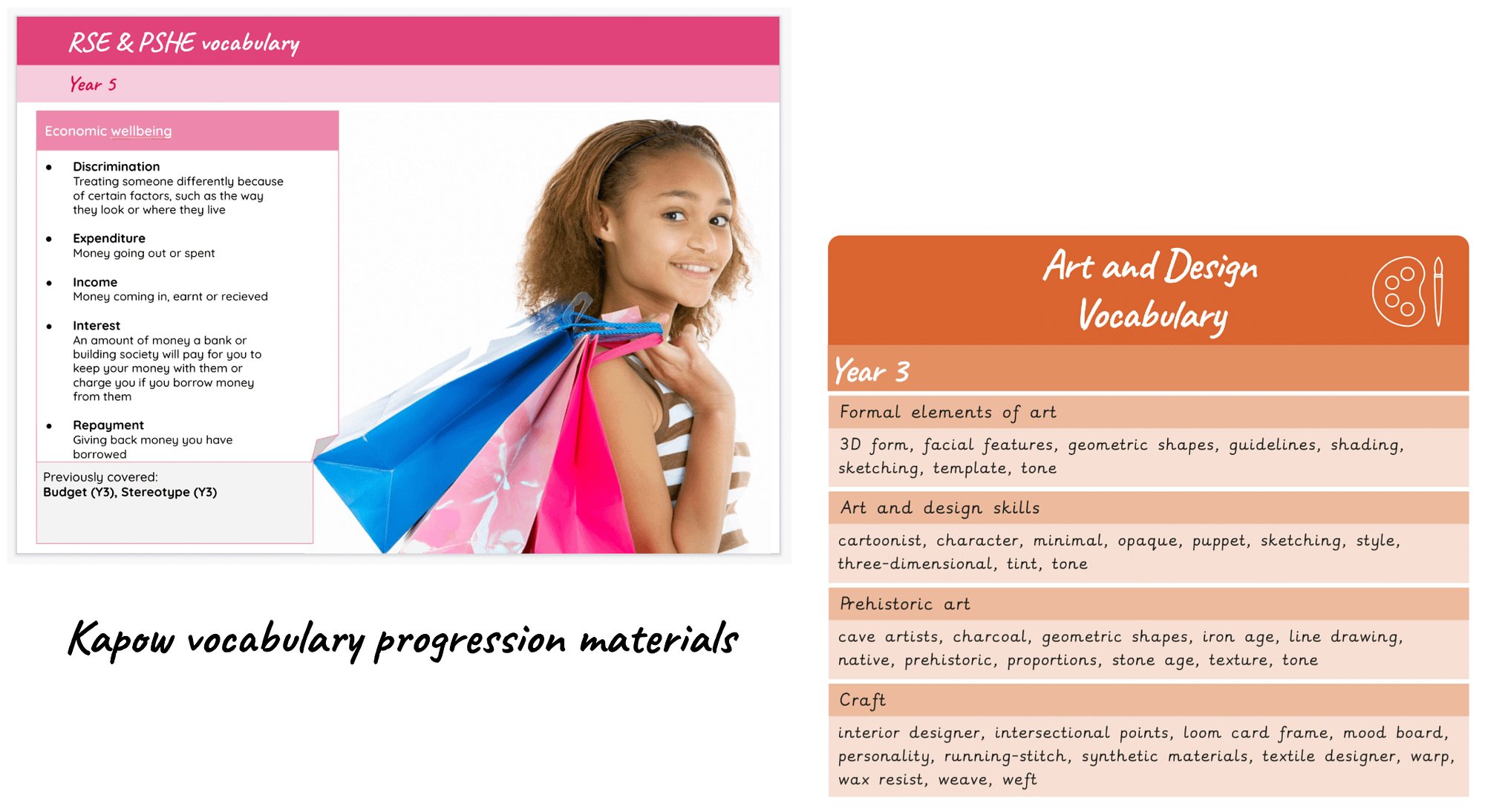 The development of vocabulary will vary hugely depending on individual children's experiences but our vocabulary progression documents can reassure teachers that the keywords used in a particular unit are age-appropriate and build on previous knowledge. The Kapow Primary French scheme offers a fantastic tool for non-specialist teachers, with detailed vocabulary collections complete with audio pronunciation guides. 
We as teachers can empower our children to learn effectively by providing a rich experience with words in school. As Nick Gibb put it in his 2021 address on the importance of a knowledge-rich curriculum, 'It is the job of schools to close this (language) gap by making sure that every child is taught the same knowledge'. Kapow Primary provides tools to help ensure quality teaching of vocabulary so that we give children the best chance to build their subject knowledge and make progress.
Discover our Vocabulary progression resources here!