Try the RSE and PSHE scheme of work for free for seven days!
Plan your lessons, update your CPD and learn to teach RSE and PSHE with confidence. No obligation – we mean it!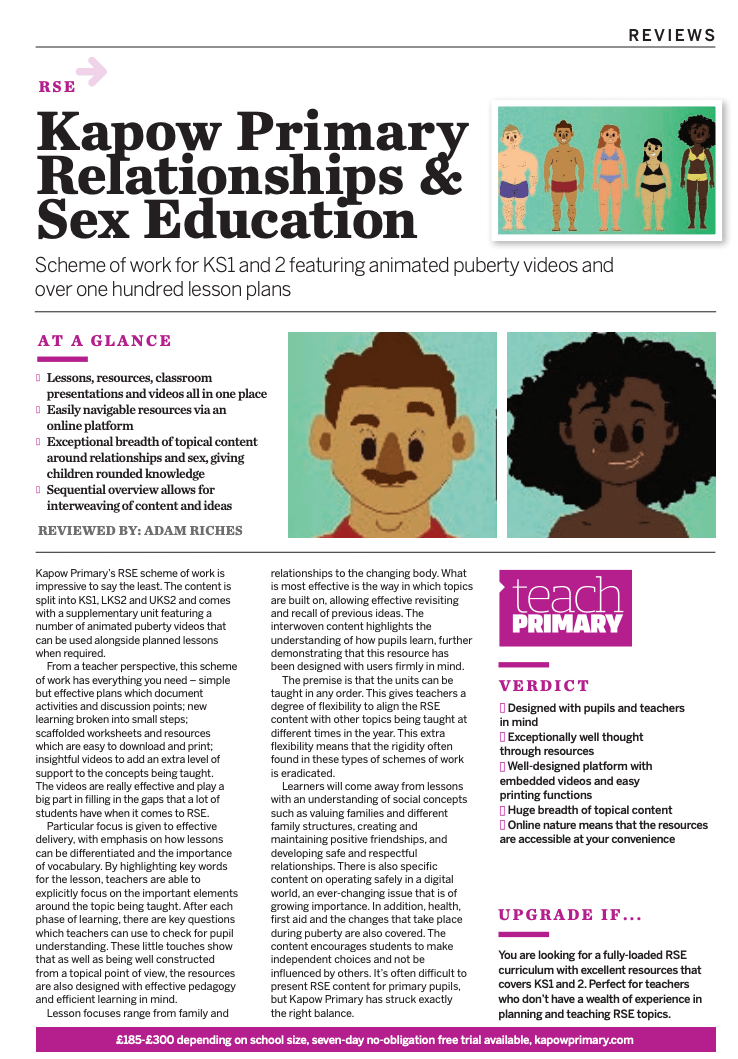 Read a review
Read a review of our RSE scheme of work from Adam Riches for Teach Wire by clicking here, then see for yourself by completing the form above for a no-obligation free trial.
So glad we found Kapow computing! It has great lesson plans and resources that even technophobe teachers are happy to follow. It was great to find an affordable scheme that did not rely heavily on one type of hardware (eg iPads) but that offers full flexibility.
I love the ideas Kapow have given me to further develop Computing teaching in my school!
It is such an excellent source for all of my art lessons. There is nothing quite like it on the market in terms of art and DT.
Paola Aldus, Head of Art, St Teresa's School
These plans are really good, they stretch the children and also are modern and relevant. They are easy to teach. We loved the IOT work and have now passed our ideas for a SMART classroom on to our school council.
Elska Hughes
School Teacher
'As a new Art leader, Kapow has saved me hours of planing and has provided me with different perspectives to teaching. The wide variety of resources has ensured that a vast majority of skills and techniques are covered. Moreover, the lessons are differentiated which allows all teachers to challenge the students in the class. I and all teachers at Portway Primary School are grateful to Kapow for the hard work and dedication.'
Arina Narbuntiene
Art subject leader
We have just bought into Kapow and it has been so easy to put it into our school. Everything is there that you need and its brilliant to help teachers gain confidence with skills they may have not taught previously. Resource lists for everything you need, all lesson plans are all there and easy to follow. '
Sarah Elmes, Woodhouse Community School
The Antarctic lesson plans are simply superb. The depth, accuracy and approach are very impressive. I just wish that this kind of material had been around during my school days.
Mike Leach – Wildlife author, Science communicator and fact checker
"The content and coverage provide reassurance to the teachers on covering difficult issues, and we can be sure that they meet statutory expectations."
"The planning was clear and helped staff who were perhaps a little nervous to teach this part of the curriculum. The resources provided were modern and sensitive, as well as being informative. We had been searching for while for informative and up-to-date resources to use alongside the delivery of the RSE curriculum and Kapow was the only programme that we felt met the children's needs and our needs effectively.
The content of the video was informative and up-to-date to meets the needs of the children."
Rhiannon Macdonald – Millfields Primary School
"The Kapow scheme has supported our school's delivery in teaching pupils about puberty and sex education in a visual and age-appropriate way. The videos themselves are simple but informative and are supported by detailed lesson plans and resources. The Kapow scheme has supported our teachers' brilliantly in developing both their subject knowledge and confidence when teaching the more sensitive areas of the RSE curriculum and has provided our subject leader with a fantastic basis upon which to develop a school-specific curriculum in this subject. Our pupils recognise the importance and value of learning RSE and Kapow has enabled us to do this in a way which meets their needs and answer their questions at an age-appropriate level."