How To Set Up a School Choir in a Primary School
The benefits of singing for children are many. Singing helps improve memory, emotional well-being, and self-esteem and provides a good workout for the heart and lungs. Singing in a primary school choir is especially fun for pupils, helping them connect while developing important social skills. 
Perhaps the best thing about setting up a school choir is how easy it is to do. There are many resources to support school choir leaders meaning that you don't have to be a primary music specialist to do it. You don't even need to play the piano or have much singing experience yourself to establish an excellent primary choir. All you need is some enthusiasm.
First Steps to Setting Up Your Primary School Choir
Think about when and where your choir will take place. You'll want to use a space that's big enough for the children to stand or sit comfortably and consider if you'd like to use a piano or whether a CD player or speaker will suffice. Weekly rehearsals help provide consistency, but you will want to consider whether a lunchtime rehearsal or an after-school rehearsal would be best for you and your group.
How many pupils might attend? Children's confidence in singing will generally improve when they sing in a larger group. So the bigger the choir, the better. Aim for 15-20 members to begin with. This number should produce lovely full vocals without anybody (particularly a new choir leader!) feeling too overwhelmed. As your confidence grows, you can allow the choir to expand.
Consider where you will get music from and the potential cost of this. The internet is full of great resources, and while many sites offer free trials or a select number of free resources, you may need to ask your school to invest in some music or a subscription service for you.
Top Tips for Running a Successful Primary School Choir
Once you've got your choir up and running smoothly, you may want to start to consider how to develop the group's quality, turning an ordinary school choir into a great one! Read on for some top tips.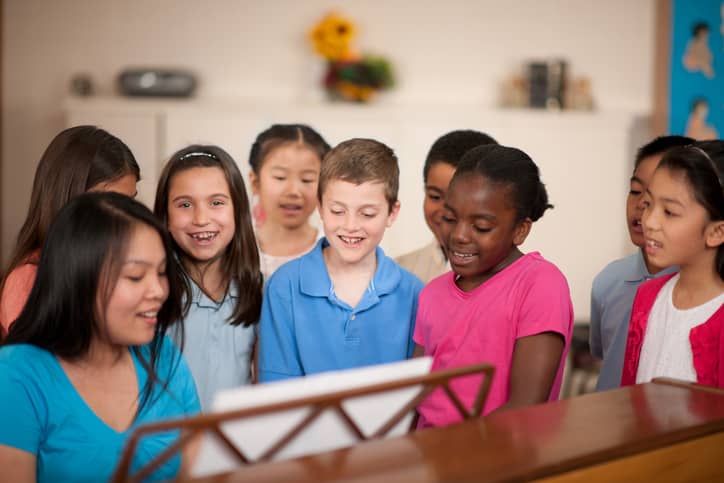 1. Start each session with a warm-up.
Physical warm-ups and stretches help relax the body and energise the group, and vocal warm-ups help stretch the vocal cords and clear the throat. Before your first rehearsals, select a few different physical and vocal warm-ups to teach your choir. Find a variety of vocal warm-up ideas by Kapow Primary Music, such as Viking song warm-ups or Ancient Egyptian vocal warm-ups. After a few weeks, you can invite the pupils to lead the warm-up for each rehearsal.   
2. Ensure children sing with good posture.
Teach the choir to sit or stand up straight with their shoulders relaxed as this will help them sing better, improve breath control, and prevent fatigue. Incorporating some breathing exercises into your warm-ups will teach pupils to breathe correctly while encouraging good posture.
3. Choose songs that the children will enjoy.
In the early days of your choir, it's essential to keep pupils motivated and allow them to enjoy singing as a group, so choose songs that the children know. Songs from movies or pop songs always go down well; then, as the choir develops, you can introduce a more diverse range of styles and include a repertoire that will challenge the group. It's a good idea to start with songs sung in unison before introducing rounds, singing in different parts, or using harmony. Resources for topic-linked songs can be found across the Kapow Primary Key Stage two Music units, including Rock and Roll, South and West Africa and Songs of World War 2.
4. Include everybody.
Singing in a choir is an activity that is accessible to everyone. Encourage different year groups to sing together regardless of their ability. For children with SEND, the choir may be the only school club they can fully participate in, so try to ensure that your choir is fully inclusive.
5. Practise starting and stopping together.
If using backing tracks as an accompaniment, practise the beginning and end of songs so that the choir start and stop in time. Singing "ready, steady off we go" at the tempo of the music and the pitch of the first note helps prepare the children for what's to come. Then use a clear hand signal to show pupils when to stop.
6. Work on diction.
You can practise this by getting your choir to speak the lyrics using the correct rhythm, which will help develop clearer pronunciation. It's also a good idea to work on the children's facial expressions and communication as they sing, ensuring that this is appropriate for the song. Actions and small dance moves can be an excellent way for pupils to express themselves while singing and serve as a prompt for remembering the lyrics. Encourage the children to take ownership of their rehearsals by asking them to choreograph their actions.
7. Get the pupils to listen to each other and reflect on their performances.
Constructive feedback and peer review can be incredibly effective for developing a choir performance. Split the group in two and get one half to perform for the other before asking for comments. Discuss what makes a good performance and get the children to watch out for these things as they listen to each other perform. You could even record your choir singing as a whole so the children can reflect on how they sound together.
8. Find or create opportunities to perform.
Upcoming performances will help to keep your choir motivated. It will give them something to look forward to while celebrating the hard work you have all put in. This could be as small as singing in a school assembly or organising a school concert where friends and family can be invited to hear the choir sing. As your choir becomes established, you may wish to consider attending larger events such as local music concerts or competitions or events like Young Voices.
Setting up a primary school choir doesn't have to be difficult, but it is worthwhile. Choirs provide an abundance of musical opportunities and experiences for the children. As you and pupils develop, you can attempt ever more challenging songs, learn new skills and even use the choir to support the broader curriculum at your school.