This post has videos which illustrate how Kapow Primary helps teachers by using videos for learning
We know how powerful videos are for learning. We use them to help teachers in a myriad of different ways, through demonstrations, talking through key learning points and misconceptions and so on. To show you, we thought we'd use… videos! It's all getting very meta…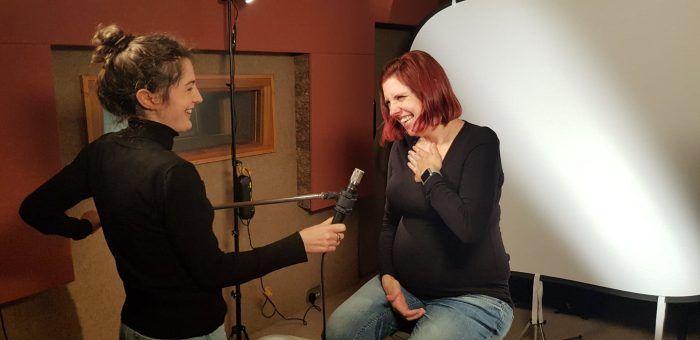 Computing specialist, Cat, having a giggle with Pippa while filming.
In the videos below, we'll show you exactly how Kapow Primary can help you to:
Ensure a progression of skills across age groups
Deliver a broad and balanced curriculum
Develop your subject knowledge and confidence
Ensure high quality teaching and learning and positive outcomes
Ensuring a progression of skills
It may seem laughably obvious to say, but progress is important in teaching and learning. However, ensuring progress in all subjects can be tricky. It requires an understanding of how subject-specific knowledge and skills should be built over different age ranges, pitching work at the right level and understanding what good looks like in your year group. This video shows how we can support you with all of this for complete confidence.

Have a look at the computing overview yourself to see the progression of skills.
Delivering a broad and balanced curriculum
We're really passionate about providing children with amazing learning opportunities across the curriculum. Every child should have the chance to develop and to shine in different ways. That's why offering a broad and balanced curriculum is so important. Not to mention it features in Ofsted's new framework. The video below explains how we can help you achieve this at your school.

Developing your subject knowledge and confidence
Great teaching requires great subject knowledge. Having an in-depth understanding of the subject you're teaching as well as subject-specific pedagogies, prepares you for all learners and any question, misconception or barrier to learning that may crop up. This video talks you through how we can help you to feel confident and fully prepared going into specialist subject lessons.

Quality assurance from specialist created lesson packs
It makes all the difference if you can learn from someone kind, passionate and deeply knowledgeable about their subject area. This video shows how you can benefit from learning directly from our incredible, award-winning specialist teachers through teacher videos.
We don't try to cover all subjects. Just the ones we can give you the most support with. You can follow every Kapow Primary sequence of lesson packs or just pick and choose the odd topic or lesson to take your teaching to the next level. It's entirely there to be what you need it to be. Flexible, reliable and full of fresh, engaging and relevant ideas!