Cute and Simple Easter Cards
This blog post has been written by experienced primary teacher Heather.
These Easter cards can be made with simple, ordinary materials.
Spring is in the air, and that means it's the season for Easter crafts, activities and more. DIY Easter cards that are easy to make, but also pleasing on the eye can sometimes be tricky to get ideas for. Here we've rounded up the best of them for you to choose from!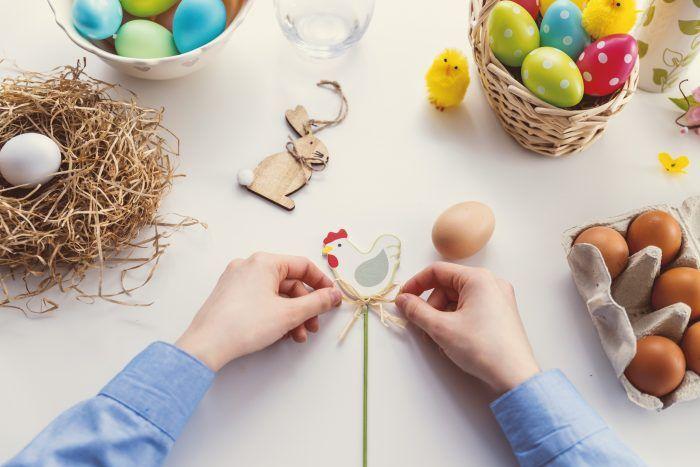 There are lots of Easter craft ideas for primary school aged children – and these can be done either at home or school. What usually works is an Easter card idea that children can do independently and put their own stamp on. We've collected some of the best ideas around here, to save you time and make this Easter one to remember.
Simple Easter Cards to Make
Moving storybook Easter card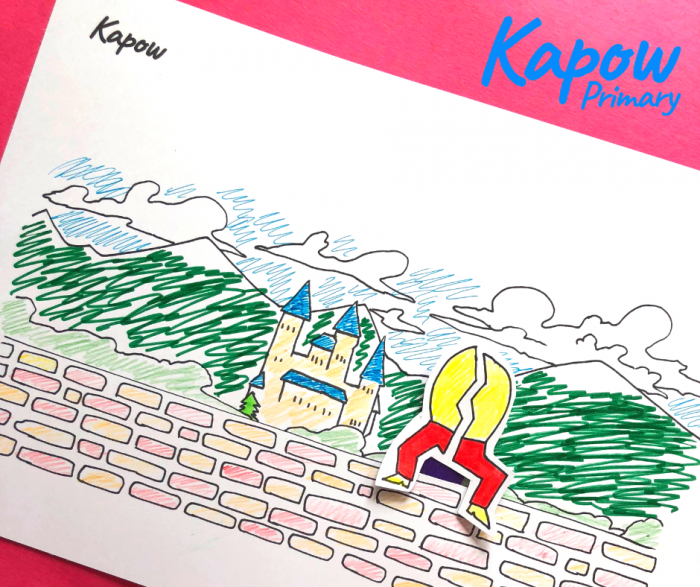 Use our moving storybook video and lesson plan template here to make your own Humpty Dumpty inspired Easter card!
Replace Humpty with your own egg designs, or design your own Easter bunnies and watch them hop along! This is a really great way to encourage children to create something interactive – and who doesn't love a 3D Easter craft?
For added challenge, how about asking children to make this into an Easter story book, with added scenes and characters? Use the included Humpty characters or design your own. You can even inspire children to write a story within the book, or use the scenes as story stimulus for each other.
3D craft Easter cards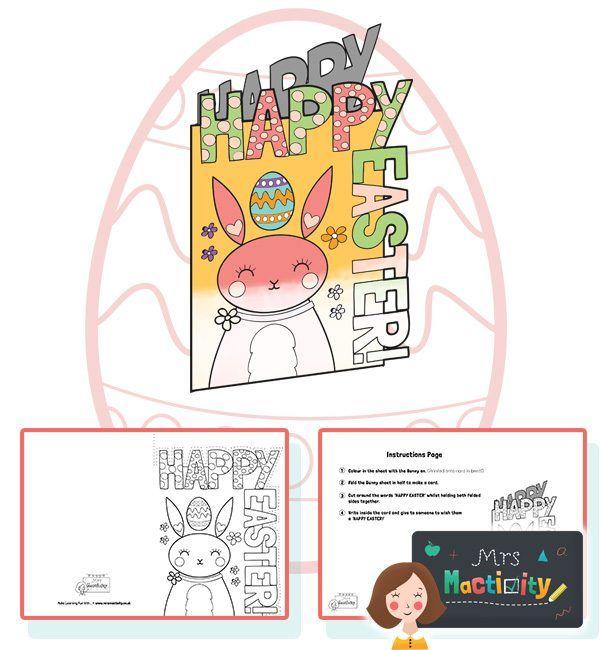 Make this super simple Easter card from our friends at Mrs Mactivity. Just cut around the Happy Easter wording (great for fine motor skills) and write an Easter message inside. For added challenge, ask children to create additional Easter related elements, or even write some Easter related jokes for inside the card.
Pop-up Easter cards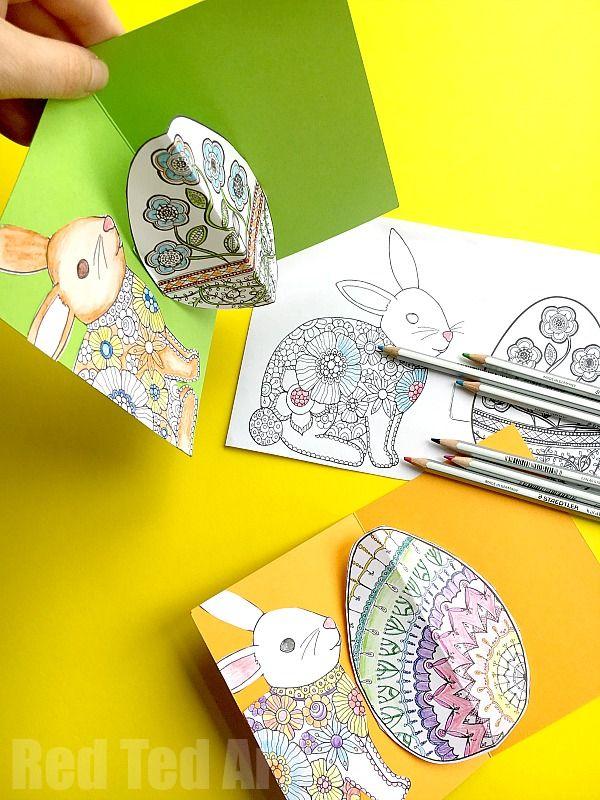 Make an easy pop-up Easter card with this idea from Red Ted Art. Simply colour in an Easter egg shape and fold it in half. Then, glue the edges inside a folded piece of card. Add your own bunny designs for a finishing touch or experiment with making a pop-up bunny instead of an egg. Ask children which parts need to be glued to the card, and which parts need to be loose. It's always interesting to see how many different ways of doing something that children come up with from the same starting point!
Easter Print card
Children love printing – and this Easter egg print card is a great child-led activity with a superb end result. Start by folding a piece of card in half to get your typical card shape. Then, squash a cardboard tube a little so it resembles an oval shape. Dip this in poster paint to thoroughly coat the end then print onto your card. You can do a traditional Easter egg shape or even make bunny ears and head from a slightly more squashed cardboard tube. When the shape is completely dry, ask the children to paint on their chosen pattern using fingers or a small brush.
Easter bunny card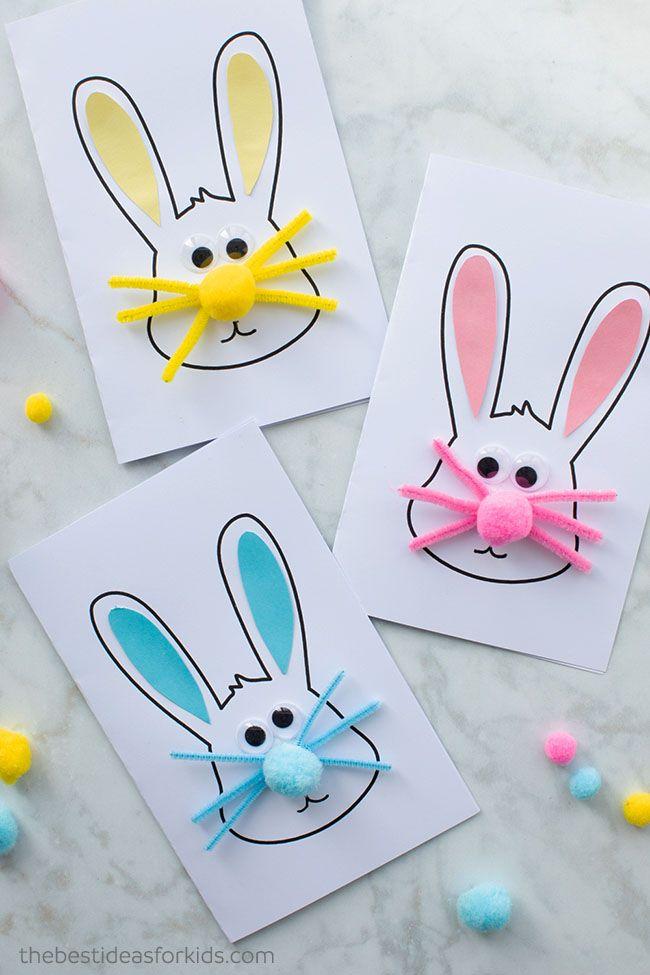 We love this Easter bunny card from The Best Ideas for Kids. Simply print off the template from the website onto white card, fold, then add on whiskers, googly eyes and a pom pom for the nose and tail. If you wanted to be extra creative, give children a range of craft materials and ask them to come up with their own designs. Child led is always best!
3D bunny cards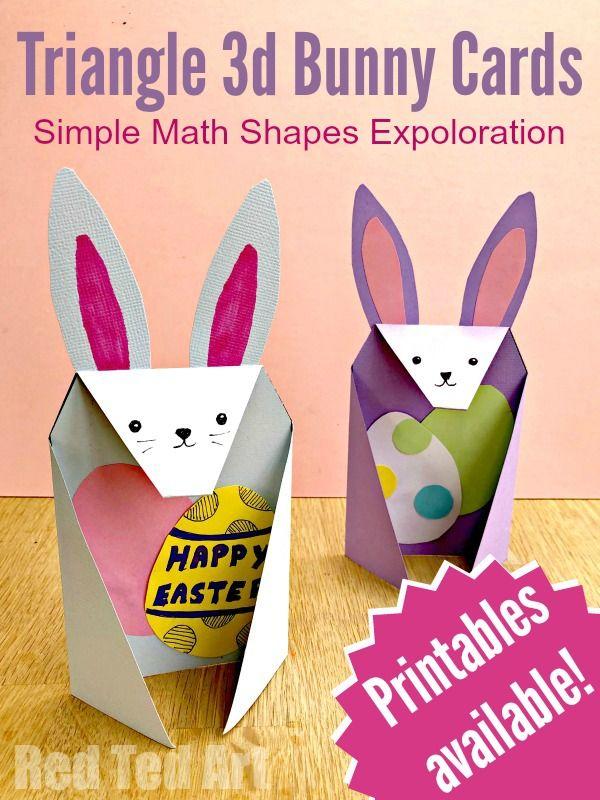 If you want to make Easter cards for KS2 – this Easter bunny triangle card is right up your street. Use the template available from Red Ted Art, or ask children to make their own triangle shape using a pencil and a ruler. Make four folds, then add bunny ears, eyes and a nose. For extra flair, make the nose out of a pom pom and the eyes from googly eyes. Children then write their Easter message inside and add their own drawings and designs. For extra challenge, ask the children to design other Easter characters from shapes either by folding or sticking them together.
Sign up for specialist knowledge and lessons