CPD toolkit for specialist subjects
Professional development is for life, not just for INSET days
You may call it CPD (Continuing Professional Development), inservice training (INSET), Professional Development (PD) or just being the best that you can be.  However, for as long as you are a teacher you will need to develop your teaching skills and subject knowledge in order to keep up with changes and new initiatives, or if you become a subject leader and need to brush up on your knowledge and skills.
CPD: What does the Teachers' Standard require?
Your school will have a programme of INSET days and an approach to CPD. Ofsted inspectors will quiz your school on its professional development activities, plans and records, but your professional development is ultimately your own responsibility.
What does CPD look like for primary school teachers? According to the Teachers' Standard, which you can read here, teachers should:
Keep their knowledge and skills as teachers up-to-date and be self-critical;
Take responsibility for improving teaching through appropriate professional development;
Respond to advice and feedback from colleagues;
Demonstrate knowledge and understanding of how pupils learn and how this has an impact on teaching;
Have a secure knowledge of the relevant subject(s) and curriculum areas;
Reflect systematically on the effectiveness of lessons and approaches to teaching; and
Know and understand how to assess the relevant subject and curriculum areas.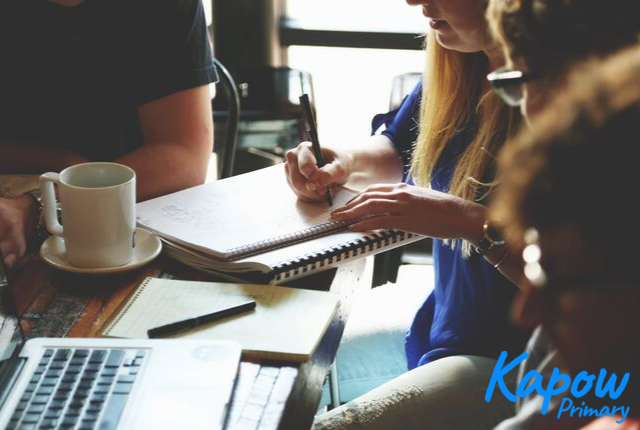 Best Practice for Teacher Professional Development
Time and budget for CPD activities is a challenge, but teachers are learners and curious by nature. Above all else, teachers want to do the best they can for their children. CPD needn't be a chore and can add enjoyment and satisfaction to your career.  The key is to incorporate CPD into your working week.  Kapow Primary can help you can develop your professional teaching skills in computing, art, D&T, music, languages and wellbeing and meet your professional development requirements. You can do this by:
1. Reviewing
Review curriculum and lesson plans for each subject. Note any gaps in your subject and teaching knowledge on the planning template and any special considerations that apply to your children. To help you, our free professional development toolkit which you can download here includes knowledge audits for computing, art & design, D&T, languages and music.
2. Planning
Plan how best to fill any gaps in your teaching or subject knowledge and set objectives.  Consider what style and forum for learning is best for each objective. Your school may run INSET programmes or pay for you to attend conferences and courses.  You can also view hundreds of teacher skills and demo videos on Kapow Primary to develop subject knowledge and teaching skills. Write your plan on the handy template which forms part of the professional development toolkit.  Also, remember to set a date to complete each objective. Of course, your school may already have planned what training you will undertake as a staff in line with your SIP (school improvement plan), but as individuals we can all pinpoint other areas we need to develop too.
3. Learning
Kapow Primary videos provide simple explanations of how to teach the specialist subjects and can contribute to your learning. You can fit them into your everyday lesson planning because they're short.  You can also view them wherever is convenient as they are designed for mobile or desktop viewing. The videos mimic great mentoring or a training session from a consultant teacher. Engaging specialist presenters walk you through new subject knowledge and explain how to teach the relevant lesson.
4. Recording
Don't forget to record when you have completed your planned CPD. You will be thankful when you come to apply for a new job and they ask what training you have undergone. This record will be invaluable to you throughout your teaching career.
5. Reflecting
Consider whether you have met the objectives you set yourself at the start of the year or term.  Reflection is about far more than ticking boxes. For example, did the objectives you set yourself lead to improvements for your children? Have you developed your knowledge and completed the gaps you identified?  Have the lessons you delivered been effective. How do you know? What will you do differently next year.
Download your free CPD toolkit for specialist subjects here
Download your free CPD toolkit here
Your toolkit includes:
A professional development planning template
Teacher knowledge audits for computing, art, D&T, languages and music for both KS1 and KS2.
A record of professional development activity template
Please let us know if you have any suggestions to improve our CPD toolkit. Contact us on enquiries@kapowprimary.com
Good luck!