Leading Art & Design at your school
This blog post has been written by experienced KS2 teacher Zoe.
It is written for primary Art and Design subject leaders.
Being a subject leader comes with great responsibility, but often not a great deal of time. Hopefully, as a subject coordinator, you're passionate about Art and Design and want to make sure that everyone is celebrating it and teaching it effectively across the school.
It can be difficult to cobble together everything you need to lead and manage Art and for those either new to the profession or with a lot else on their plate, it can sometimes be difficult to know where to start.
Kapow Primary is all about giving teachers confidence in specialist subjects through enhanced subject knowledge and, in doing so, allows schools to create consistency and quality in sometimes overlooked subjects.
With this in mind, we wanted to create materials to support those responsible for these subjects to make it easy for them to inspire, lead and create impact in these areas.
Art and Design Subject Leader Toolkit
Get Your Art Subject Leader Toolkit Here!
This toolkit helps give you a clear picture of how Art is currently taught at your school and supports you in formulating a plan to raise standards and engagement.
It includes:
Teacher subject knowledge audit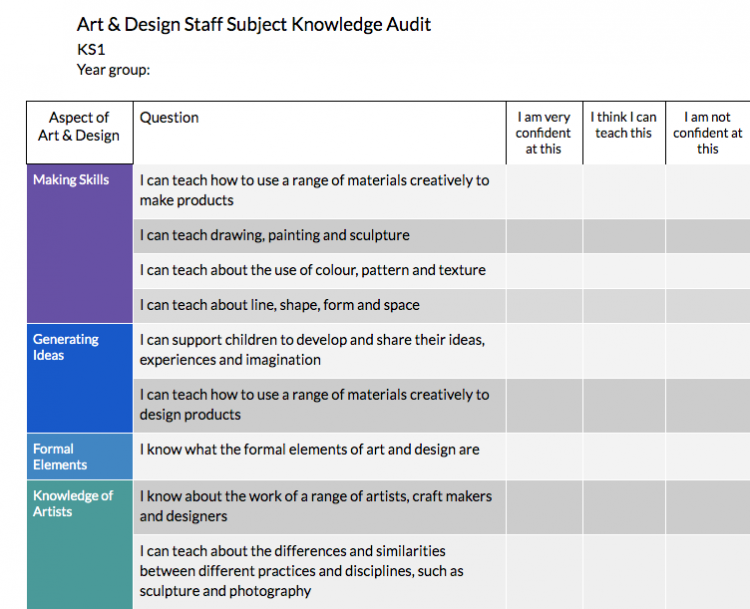 Before planning what professional development or support your teaching staff might need, it's important to learn how confident they feel with understanding formal elements or different artistic techniques.
Great teaching needs secure subject knowledge and subject-specific pedagogies. For example, you want staff to know how to work with clay, but you also want them to know different strategies for teaching these techniques in an easy-to-understand way as well as common misconceptions and how to address them.
Art and Design resources audit
Art is one of those subjects where it is virtually impossible to teach properly without the necessary resources. For each year group we have a resource list for Art so you can quickly check whether you have everything you need for teachers to deliver the full curriculum.
The audit also makes you consider where these resources are stored. For example, it's all well and good having a whole container of oil pastel packs, but if they don't have a specific home and just get passed from classroom to classroom, it can put people off using them as they have to spend time tracking them down.
Art and Design Coordinator folder guidance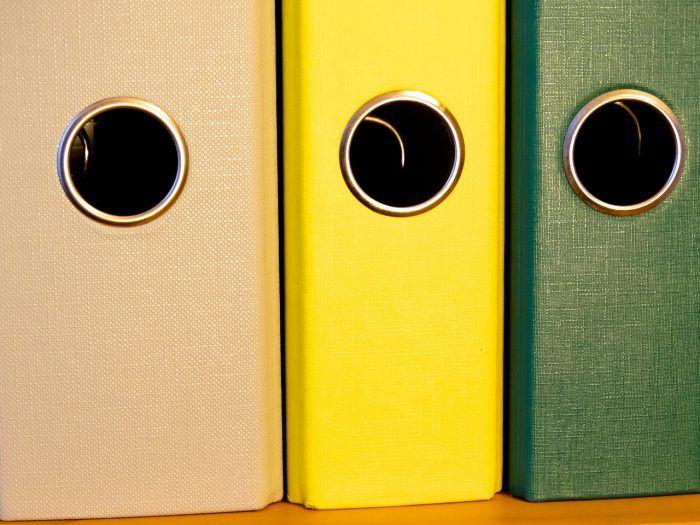 For a subject leader, the prospect of someone questioning you about your subject and how it's monitored can feel quite scary. Having everything you need in a folder can help you to lead a conversation about everything you have done to ensure high quality teaching and learning across the school.
Art & Design Curriculum Overview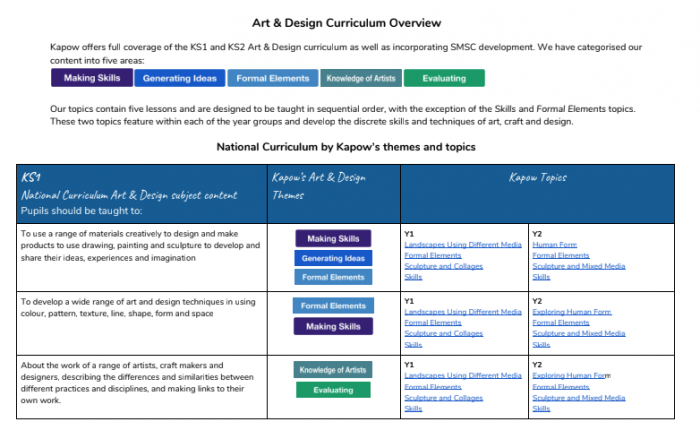 The National Curriculum does not contain a huge amount of guidance on Art & Design, but each objective is included in the curriculum overview and linked to relevant lesson packs to ensure full curriculum coverage. Seeing which objectives are covered by which topics, gives you the control and flexibility to ensure progress in the areas that need it most.
In addition, the learning areas of: Making Skills, Generating Ideas, Formal Elements, Knowledge of Artists and Evaluating are colour coded to give you an 'at a glance' impression of the focus of each topic.
Not only are our primary Art specialists responsible for creating the lesson packs themselves and teaching you about them in their videos, they worked collaboratively with each other to plan the sequence of these lesson packs to ensure they would build on prior knowledge and follow a logical progression on skills.
Art Staff Meeting Presentation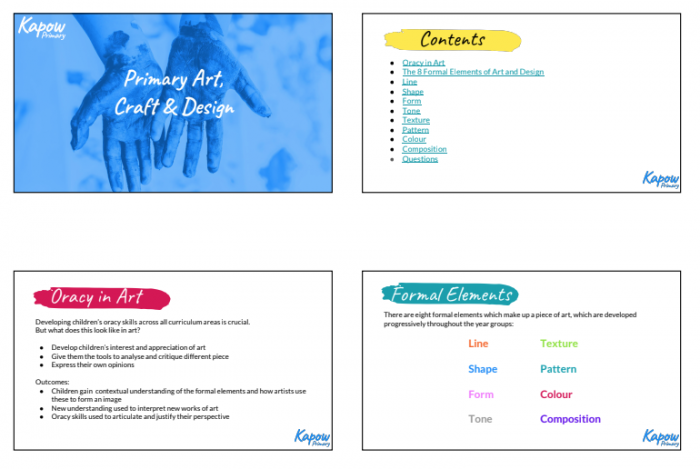 This may change, but historically foundation subjects are covered less frequently in staff meetings. The presentation that you can download as part of this toolkit focuses on oracy in Art and Design as well as looking at the formal elements. Formal elements may be unfamiliar terminology, so the presentation breaks down the meaning and gives ideas for how to teach their meaning in fun and simple ways.
Cross Curricular Links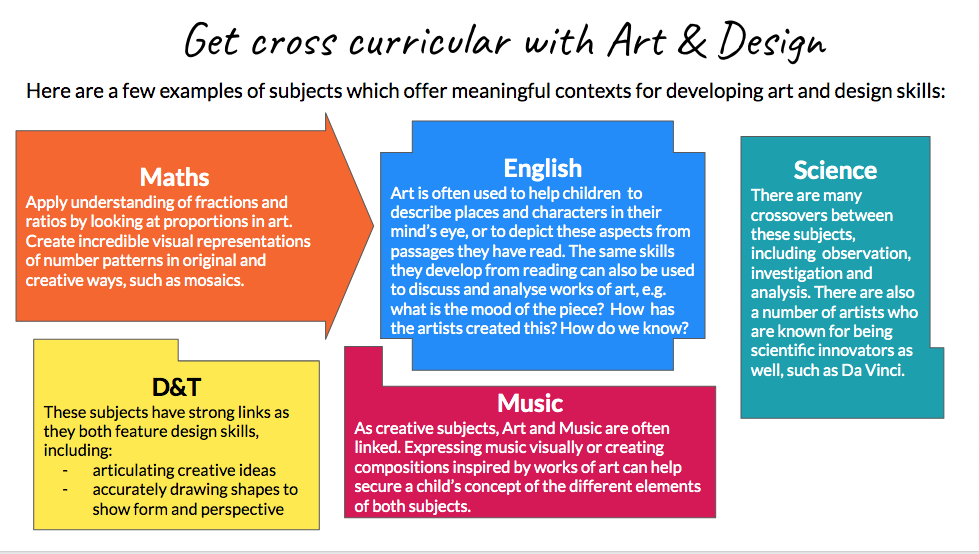 Often subjects are linked under an overall theme or topic to provide a relevant and familiar context for learning. While I support this approach, I think it's very important to make meaningful links between subjects but also to explore and develop the knowledge and skills required for each subject on its own.
In the cross curricular links document, there are ideas for how Art & Design concepts and skills can be developed and applied in meaningful ways.

Get Your Art Subject Leader Toolkit Here!